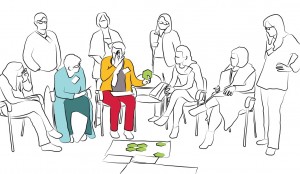 The benefits of co-operative thinking are widely expounded today: problems are too complex for any single discipline to solve, solutions call for creative thinking from a diversity of perspectives, and so on. These benefits are not often reached, however. Groups can be subject to competition, domination by the loudest or most powerful, disinterest by members of virtual teams who have little connection with one another, and resistance by cynical participants. At the same time, leaders may underestimate the importance of discussion in their team. Too often, creative dialogue is replaced by a quick request for "buy-in".
In many organizations, both business and non-profit, facilitation is being discovered as a means of releasing groups to work together productively. A facilitator is a neutral figure who orchestrates a group meeting to ensure that desired objectives are accomplished. The facilitator, whether an internal figure or an external professional, puts attention on the decision-making process. This frees the group, and especially its leadership, to focus intently on the content of the decision. A facilitator is content-neutral, and thus able to draw attention to all aspects of the issue, not only the most obvious, and to assist in creating complete solutions. The facilitator provides a reminder that the organization looks to the participants for constructive input, not only passive acceptance.
This book is a compendium of experiences by many different organizations, which have successfully used (group) facilitation to reach their goals. For those who have never used facilitation, this book provides a rich diversity of case studies for how a facilitator can contribute to improved productivity and commitment. For those acquainted with facilitation, you may find new approaches here to enrich your current activities.
This book has been compiled by two members of the International Association of Facilitators (IAF) Chapter Netherlands, the professional association for facilitators. You can find more information about our activities and locate Certified Professional Facilitators (CPF) at www.iaf-world.org.
Maureen Jenkins CPF – former chair IAF World and IAF Netherlands Chapter