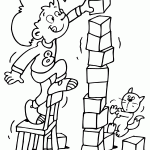 Joyce Weber (Werk en Inspiratie) vroeg me mijn werkwijze te beschrijven op een praktische wijze, zoals de dingen in een Blokker-winkel: geen design, maar ook niet zo goedkoop als Action of Zeeman. "IKEA", denk ik dan: onderdelen om zelf in elkaar te zetten. Hierbij mijn poging, de blokken. Maak er zelf een stapel of een muur van.
"Als een Blokker-winkel" is een mooi voorbeeld van een metafoor. Mensen denken in metaforen, denkbeelden. Zelfs deze tekst "vertaal" je in "beelden". Geen letterlijk beeld, maar figuurlijk.  Door middel van een metafoor "begrijp" je de wereld. Een onbekend concept, probeer je te begrijpen, door wat je kent en weet te af te beelden op het onbekende begrip. 'Ah, nu zie ik, wat je bedoelt, zeg je dan'.
Met een metafoor beeld je de structuur van je concrete ervaringen af op eenzelfde structuur van abstracte klassen.
Structuur van de winkel. Het beeld van de "Blokkerwinkel", ken je uit je ervaring. Je bent er vast wel eens geweest voor een huishoudelijk artikel."Blokker" staat voor een niet echt overzichtelijke winkel met praktische, degelijke zaken, voor het huishouden, voor elke dag, dicht op elkaar, goede kwaliteit voor een goede prijs. Eigenlijk is het als winkel een "workshop": een winkel voor het werk in het huishouden.
Vergelijk dat beeld eens, met je beeld van een "design winkel", mooie spullen, maar aan de prijs; of de inrichting van Action, bakken met "hoe kunnen ze het maken voor die prijs?". Je ervaringen in winkels zijn concreet, de woorden zijn abstract. Je kan niet winkelen in het woord "Blokker".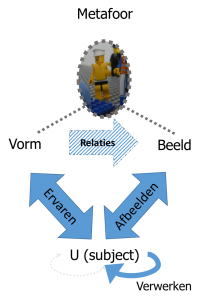 Drie-eenheid. In praktische termen, bestaat een metafoor als een drie-eenheid: de vorm die je ervaart, U of jijzelf als verwerker (of subject) en het beeld van je object. In dit plaatje staat: "de facilitator is als een loods".
Centraal in de metafoor staat "U", ervarend subject. "U" ervaart en maakt de metafoor. Een metafoor is dus altijd ook subjectief. Eenzelfde metafoor, ervaart een ander anders. Jouw "Blokker-winkel" ziet er anders uit, dan de mijne. In het maken, draag je relaties tussen de elementen van je concrete ervaring over op relaties in het "beeld" van je ervaring. Zoals je leest, beschrijf ik ook een beeld van de metafoor.
Concreet. Hoe je aan concrete ervaringen komt, hoef ik je niet te vertellen. Stap een winkel binnen, zie, hoor, ruik, voel hoe "ervaring werkt". Je concrete ervaringen zijn altijd lichamelijke ervaringen. Je begrijpt een concrete zaak, door het te "be-grijpen". De verklaring ervoor ligt voor de hand: je hebt zelf ook een vorm.
Ervaren. Je ervaringen zijn altijd concreet. Je ervaart met je zintuigen en je lichaam. Wat op je inwerkt, merk je op en verwerk je als "ervaringen". Ervaring onthou je, niet zoals in een bibliotheek, winkel of computer zaken onthoudt, maar als een soort "script", een "herinnering". In het herinneren, herinner je je ervaringen door middel van je lichaam. Zo herken je een Blokker-winkel aan je gedrag, je eerdere ervaringen in een Blokker-winkel. In een winkel van, zeg IKEA, gedraag je anders, dan in een Blokker zaak. Het unheimische gevoel van een high-end design winkel, komt voort uit het ontbreken van een adequaat handelingsrepertoire. Je kent de weg er niet.
Structuur. Hoe kom je aan de structuur? Die volgt uit "hoe het werkt", "hoe je het gebruikt". Ik gebruik bewust het werkwoord "gebruik". Een zeem, is om te zemen. Een stoel, om op te zitten. Je hamert met een hamer. De structuur volgt uit het toepassen van acties: je begrijpt, wanneer je weet hoe ermee te werken. "De weg kennen" houdt in, dat je de structuur van de winkel "herkent". Juist in een lege winkel, met maar een ding, voel je je niet thuis. (En wanneer je naar de prijs moet vragen, kan je het niet betalen).
Voor de vorm. "Structuur" kan je niet zien. Je ziet de vorm, maar niet hoe iets is opgebouwd. De enige structuur, waar je (indirect) toegang toe hebt, is de structuur van je lichaam. Vandaar dat alle metaforen, en het begrijpen, ook altijd gaan over ruimte (boven – onder), tijd (achter – voor, en dus ook een ruimte metafoor), beweging (vooruit, of eigenlijk, links – rechts) en kracht (of energie).
Abstract. Door het maken van een structuur op basis van "hoe het voor jou werkt", negeer je andere manier van "hoe iets werkt". Dit heet "abstraheren", of wel "wegtrekken". In het maken van een beeld, werk je als een beeldhouwer, door weg te laten, wat niet in het beeld past. Zoals in de abstracte kunst, gebruik je alleen de in je oog springende vormen en delen. Hoe je dat doet? Kijk maar naar : dubbele punt  – streepje haakje ) sluiten 🙂 en je ziet een lachend gezichtje. Het kan nog één stap abstracter : ) .
Beeld. Het beeld waarover ik spreek, is geen echt beeld, geen echt concreet (stand)beeld of plaatje, maar een metaforisch beeld. Een soort ingebeeld beeld. Omdat Joyce sprak over "Blokker", kreeg ik het beeld van de winkels, maar ook van "blokken". Vandaar het plaatjes aan het begin van deze tekst. In mijn geest, verscheen een "beeld" van iemand die blokken stapelt, een "blokker".
Afstemmen van beeld in geluid en in woorden. Mensen hebben geleerd om hun ervaringen te uiten in geluid, klank, taal. Zingen was waarschijnlijk bedoeld om met elkaar gedrag af te stemmen, bijvoorbeeld bij routinematig en zwaar werk, Zoals we nog steeds doen in een koor, bij een oefening. En op school. Je hebt geleerd klanken te associëren met acties, handelingen en vandaar naar beelden, metaforen.
Associëren. Het woord "associatie" geeft al aan, hoe dat werkt: in een sociale context. Je leert je gedrag af te stemmen op anderen in je omgeving. Niet alleen letterlijk (in de vorm van gedrag), maar ook figuurlijk (als "afstemmen"). Je leert daarbij ook, bij welke familie, stammen, groep(en) je hoort. Ook dat gaat via geluid, enerzijds via "stem" van een ouder, voorganger, leraar en anderzijds via horen. Het woord "horen" gebruiken voor erbij horen.
Het één voor het ander. Op deze manier maak je dus metaforen: uit je gedrag van jezelf, maak je een model, beeld, abstractie, een structuur van elementen, elementaire gedragingen. In een nieuwe situatie, vergelijk je je bekende structuren, met de situatie zoals die zich aan je voordoet. Daaruit leid je een nieuw beeld of metafoor af, die je met een andere naam benoemt.
Context. Uit het voorgaande volgt, dat je je metaforen ook altijd aanpast aan de situatie of context. De situatie bepaalt je gedrag, "hoe het hoort"; je ervaringen "kleuren" "het plaatje". Eenzelfde situatie, zal dus bij de verschillende mensen tot dezelfde naam van de metafoor kunnen leiden met verschillende "beelden". Merk ook op, dat jij met je ervaringen, ook deel uitmaakt van de context. Zo heeft Blokker in mijn geval, bijna nooit wat ik zoek. Hoe zit dat bij jou?
Dubbel. Een naam is niet de metafoor, maar een abstractie van een metafoor. Net zo als een plaatje van een auto geen auto is, het woord stoel geen stoel, chair, chaise of Stuhl. Het menu is niet het gerecht. In Japan staan er godzijdank plaatjes in het menu, want anders had ik geen idee gehad over "wat er op het menu stond". Mensen passen dus een dubbelslag toe: wat je ervaart onthoud je als metafoor, een structuur van abstracte klassen EN je zet een woord of wat zinnen in de plaats van de metafoor.
Communiceren. Let op: onder communiceren versta ik het afstemmen van gedrag. Communiceren – het woord -, gebruik je ook als metafoor.  Waarschijnlijk heb je geleerd, dat communiceren het overdragen van betekenissen betekent. Ik ga echter uit van gedrag en heb dus een heel ander beeld bij de metafoor "communiceren". Als fysicus denk ik als vanzelf aan "communicerende vaten": het waterniveau in twee verbonden vaten, staat even hoog. Dat is gedrag. Van dingen. Ook dingen "communiceren", net als planten en dieren. En mensen.
Gedrag. Alle gedrag communiceert en alle communicatie bestaat uit gedrag. Je kan dus communiceren zonder woorden, bijvoorbeeld door iets voor te doen. In dat handelen, leg je ook een relatie, een structuur aan de situatie met de ander op. Afstemmen van gedrag houdt ook in, het afstemmen van relaties. "Afstemmen" gebruik ik hier dus ook als metafoor. De communicerende vaten, stemmen zich op elkaar af. Zonder geluid.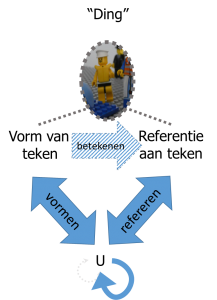 Bekentenis. Eerlijk gezegd, dacht ik ook dat communiceren over het overdragen van betekenissen ging. Jarenlang heb ik gepuzzeld hoe dat werkte en wat betekenis "is"? Totdat ik inzag, dat betekenis van betekenis dezelfde structuur heeft, als die van metafoor. Betekenis bestaat dus "niet", bestaat uit niks anders dan je ervaring van de metafoor.
Betekenis. Ik verbeeld het in het plaatje hiernaast: de vorm van het teken, de betekenaar (U) en de betekenis (men spreekt dan van de referentie aan het teken), vormen een drie éénheid. De pijl met het woord "betekenen" bestaat niet echt. Dat is wat de "U" doet. Betekenis zit in U, in jou, in mij. Jij betekent.
Let niet op letters. Bij het lezen vertaal je "automatisch" (ik zeg liever "vanzelf"). Je herkent de vorm van de letters, weet waar de grip in de lettergrepen zit en herkent de referentie aan het woord. Zoals bij "Blokker-winkel". Je herkent het "woordbeeld", waarbij, zoals bekend, j nt ns d klnkrs ndg hbt. Je merkt zelfs niet meer op, dat een woord een woord is en geen metafoor meer lijkt.
"The world is emblematic. Parts of speech are metaphors, because the whole of nature is a metaphor of the human mind." Ralph Emerson
Alles draagt betekenis, omdat alles – je hele natuur – voor jou alleen uit metaforen kan bestaan, metaforen die jezelf gemaakt heb. Metaforen gebruik je voor de overdracht van "wat je kent" op "wat je nog niet kent". U betekent betekenissen. Je draagt betekenis over op wat figureert in je werkelijkheid. Door te communiceren stemmen we gedrag op elkaar af en daarmee de betekenissen. En niet omgekeerd. Communicatie is ook een metafoor, een metafoor over gedrag.
U. Eigenlijk had ik hiermee moeten beginnen. Het begint en eindigt met "U", jij, "ik". Je kunt niet zonder jezelf bestaan. Hoe maak je van je ervaringen een beeld? Dat weet ik niet. Hoe het echt werkt, weet niemand. Want we kunnen het er alleen in termen van metaforen over spreken. Je "verwerkt" je indrukken door het "herkennen" van het gebruik door je lichaam. In een andere post ga ik daar verder op in.
Toepassen. Voor de mind@work methodologie in het faciliteren van effectieve workshops, gebruik ik metaforen. Door met elkaar de metaforen uit  te wisselen, uit te vinden waar ze verschillen en waar ze overlappen, verkrijgen we een completer beeld over "waar we het over hebben".